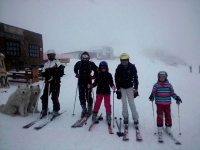 NEW! FOR SEASON 2022/2023
SPECIAL OFFER! EXCLUSIVE! FAMILY FRIEND PACKAGE:
6 days / 4 hours - 2350 euro/ 4590 lv - maximum 6 persons - ski/snowboard tuition + ski/snowboard hire
Borovets
tel.:
+359 888 707 757
е-mail:
[email protected]
web:
www.skiuniverse-bg.com
Ski lessons are tailored to the individual's needs and can be private, group, or as a part of a big value package deal. Ski lessons are divided in 4 classes – A, B, C and D and they can be group or private. We also offer lessons in carving technique. Usually during the morning our clients tend to do 2 hours lessons. But during the afternoons there are groups again based on abilities or private lessons. Basically we want our clients to see the mountain, properly learn to ski and enjoy themselves during their stay in the Bulgarian mountains.

Ski/ snowboard school prices include a special certificate issued upon completion.

Notice: Prices are for person.
For certain days and periods we make special discounts! Please, make an inquiry, using the form below!